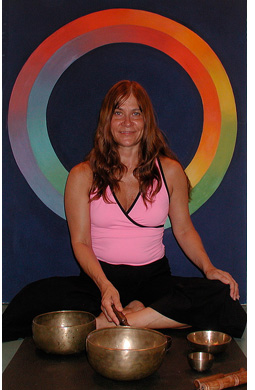 Amethyst Project is a gift from the heart of Spirit. It continues to unfold as I explore the flowering of true nature, which is pure love. I would like to share some of the things I have learned along the way with you. If you'd like to come along and explore these sacred paths with me, welcome!

Yoga – Through the practice of Yoga, we can learn many things about ourselves and the world as we perceive it. Yoga has helped me to soften my perspective and see things from a place of heart-centered consciousness. The physical practice of yoga brings many benefits in terms of external health and wellness. But the internal benefits of practicing yoga are far greater still. I have had the great fortune to have practiced with many wonderful teachers, whom I also count as friends.

About Sandy Gola. I have been practicing yoga since 1998 and completed my Yoga Teachers' Training at Yoga Synthesis with Raji Thron. My primary teaching style is vinyasa flow, with a creative integration of several yoga styles. Prior to taking up yoga, I was a NDEITA Certified fitness instructor at the Montclair YMCA and elsewhere. A student of diverse spiritual traditions, I have a an interest in the subtle energetic bodies, particularly the emotional and mental bodies and their effects on the physical realm. Through yoga, meditative states, and breathwork, I hope to facilitate growth and higher understanding in my work with students.

Guided meditations and yogic breathing practices are introduced in my classes. I enjoy sharing sources and references to books and learning tools that I have found helpful in the area of self-development along spiritual lines. Plenty of hands-on adjustments and personal attention are hallmarks of my teaching style, with an emphasis on self-mastery through awareness of body mechanics, alignment, and muscular engagement. All classes are customized to meet the needs of the individual practitioners.

I am registered with Yoga Alliance and have received additional certifications in Pre Natal Yoga with Kelli DeFlora and Masala Restorative Yoga with Ellen Pfeffer. As an energy and healing arts practitioner, I also hold certifications in Level 1 and Level 2 Reiki and in Level 1 Bach Flower Essences. With a lifelong interest in Native American issues, I have traveled and supported the Thirteen Indigenous Grandmother's Conference in various locations, including McLeod Ganj, India, where we met with the Dalai Lama.

Please see my current schedule of group classes in several locations in Bergen, Essex and Morris Counties. I also offer private and small group classes at your location. Please contact me at 973-259-1200 or info@amethystproject.com about setting up a program for yourself or a small group. A complimentary flexibility and structural consultation is included for all first-time private clients.

Namasté,
Sandy Gola, R.Y.T.